©1984 Paramount Pictures. All rights reserved.
Catalog Number
CD 1621
Running Time
105 minutes

Side
Running Time
1
53min 16sec
2
51min 50sec
105min 06sec

| | |
| --- | --- |
| Retail Price | $34.98 |
| Issued | April 1, 1985 |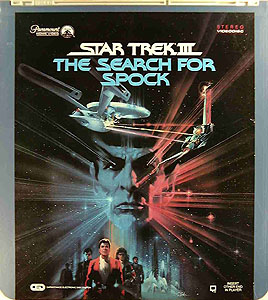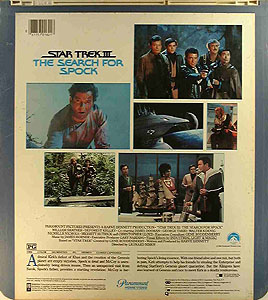 Images and timing information courtesy of Tom Howe at CED Magic.
Directed by
Leonard Nimoy
Written by
Harve Bennett
Produced by
Harve Bennett
Executive Consultant
Gene Roddenberry
Executive Producer
Gary Kardino
Music by
James Horner
Starring
William Shatner
Leonard Nimoy
DeForest Kelley
Co-Starring
James Doohan
George Takei
Walter Koenig
Nichelle Nichols
Merritt Butrick and
Christopher Lloyd
Stardate 8210.3
Admiral Kirk's defeat of Khan and the creation of the Genesis planet are empty victories. Spock is dead and McCoy is inexplicably being driven insane. Then a surprise visit from Sarek, Spock's father, provides a startling revelation: McCoy is harboring Spock's living essence. With one friend alive and one not, but both in pain, Kirk attempts to help his friends by stealing the U.S.S. Enterprise and defying Starfleet's Genesis planet quarantine. But the Klingons have also learned of Genesis and race to meet Kirk in a deadly rendezvous.

Updated: July 9, 2003
©2003 Blam Entertainment Group