REBEL WITHOUT
A CAUSE
©1955 Warner Bros., Inc. All rights reserved.
Catalog Number
W21-514
Format
Extended Play CLV
Running Time
111 minutes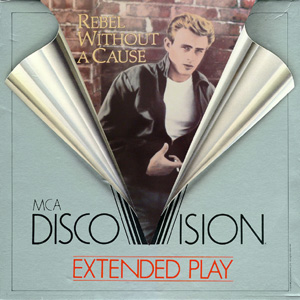 Cover mock-up
---
Mono
Label Color
Red
Estimated Sides
3
Retail Price
$24.95
Pressing Notes
Rebel Without a Cause was part of the Warner Home Video Catalog to be announced on DiscoVision and was included in the original Silver Catalog. Of all the titles which were announced, only 2 were ever mastered or pressed. Rebel Without a Cause was re-announced in 1980 as part of IBM's involvement in the failed DiscoVision rescue attempt. The title never materialized.
---
Release History
Rebel Without a Cause was released on LaserDisc by on Warner Home Video (Catalog # 1011). In 1993, it was reissued in 2.35:1 Widescreen (Catalog #: 12589).
---
MCA DiscoVision Home Page
---
Updated: November 5, 2016
Copyright ©2000 Blam Entertainment Group