©1981 Universal City Studios, Inc. All rights reserved.
Catalog Number
16-025
Format
Extended Play CLV
MPAA Rating
Running Time
108 minutes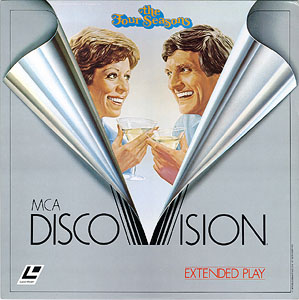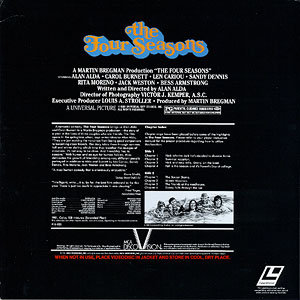 ---
Mono
Pressing Location
Universal Pioneer Japan
Label Color
Red
Retail Price
$29.95
Year Issued
1981
Side
Chapters
Running Time
1
4
56 min
2
4
52 min
8
108 min
Ratings
Video Transfer
Audio Transfer
Replication
Packaging
Printed Jacket
Pressing Notes
The Four Seasons was the very last DiscoVision disc. The standard "shrinking numbers" bumpers used by MCA Videodisc are utilized on this title. The opening DiscoVision logo has no introduction music. The copyright line at the bottom of the jacket back indicates ©1981 MCA VIDEODISC and the disc being manufactured by MCA VIDEODISC.

It's funny how time mellows things. In 1981 when I saw this film in the theater, I hated it. But, what could a sixteen year old kid know about films like this one anyway? Watching it again when I've doubled in age, it takes on a whole new meaning for me. I have to say it's not anywhere near as bad as I thought.

This DiscoVision transfer, taken from a 35mm theatrical release print (including projectionist cues) is sharp, clear, colorful and well balanced in the video recreation. On the sound front, the optical tracks were transferred well, giving life to the orchestral score. The music is so wonderful, I half expected it to leap from the center channel and surround the room. A discrete stereo mix of this film would sound truly amazing. However, it's only mono, so we have to take what we can get. The replication by Universal Pioneer is very good. Most copies have some very minor high-frequency speckling, which is only visible randomly throughout, but good video noise reduction usually clears up the trouble.

For being the last DiscoVision ever, one would expect a half-assed job on all fronts. But since DiscoVision was essentially dead anyway, and Pioneer/MCA Videodisc picked up the disc for distribution well into 1985, it really goes to show that by the end, DiscoVision could actually produce a LaserDisc, that 35 years later, still plays wonderfully.
---
Release History
The Four Seasons was never reissued on LaserDisc.
---
MCA DiscoVision Home Page
---
Updated: November 5, 2016
Copyright ©1998 Blam Entertainment Group