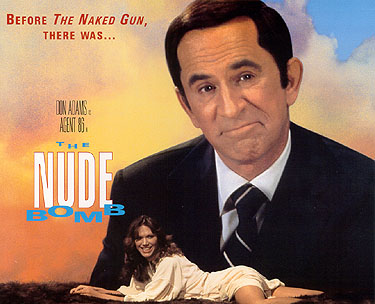 ©1980 Universal City Studios, Inc. All rights reserved.
---
Mono
Pressing Location
DiscoVision Carson
Label Color
Red
Estimated Sides
2
Retail Price
$24.95
Pressing Notes
The Nude Bomb (aka "The Return of Maxwell Smart") was included in the October 1980 Catalog update. Agent 86 would not see his return on DiscoVision.
---
The Nude Bomb was issued on MCA/Universal Home Video (Catalog #: 16019) in August 1991 as a 2 sided CLV title. Having actually seen the film, thankfully it is no longer available.
---
Return to MCA DiscoVision Catalog
MCA DiscoVision Home Page
---
Updated: April 16, 2000
Copyright ©2000 Blam Entertainment Group