©1979 Universal City Studios, Inc. All rights reserved.
Catalog Number
16-015
Format
Extended Play CLV
MPAA Rating
Running Time
95 minutes
---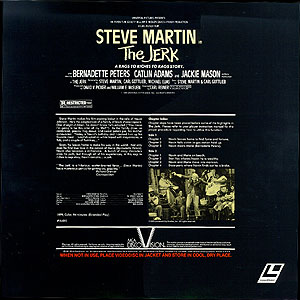 Mono
Pressing Location
DiscoVision Carson
Label Color
Red
Retail Price
$24.99
Year Issued
1981
Side
Chapters
Running Time
1
3
48min
2
4
46min
7
94min
Ratings
Video Transfer
Audio Transfer
Replication
Packaging
Printed Jacket
Pressing Notes
The CLV edition of The Jerk replaced the CAV version with no announcement. The jackets were printed with no artwork changes. This edition corrects the missing audio problem at the 2-3 side-break on the Standard Play (CAV) edition by playing the scene for the full duration. Of course, this leads to a horrible problem, where the lead-in music is present at the end of side 1 and then continues on side 2. In an attempt to clear up a mistake on the original edition, they actually made the break more jarring.

Both the video and audio transfer are the exact same as the previous edition. Disc replication was surprisingly good, with very little speckling and no audio helicoptering.
---
Release History
The Jerk was released in November 1992 by MCA/Universal Home Video (Catalog #:16015) in Digital Mono. There have been some minor audio alterations which are not noted on the jacket anywhere.
---
MCA DiscoVision Home Page
---
Updated: November 5, 2016
Copyright ©2002 Blam Entertainment Group