©1978 Universal City Studios, Inc. All rights reserved.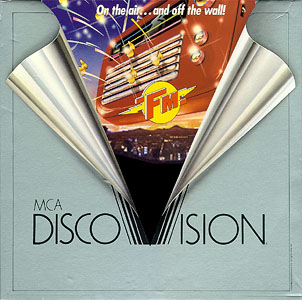 ---
Mono
Pressing Location
DiscoVision Carson
Label Color
Blue
Estimated Sides
5
Retail Price
$15.95
Pressing Notes
FM was announced in the original Silver Catalog, and then re-announced in 1980 while IBM was in charge of mastering and replication. The disc was never mastered or released. There are no known sides to exist, even as dead sides.

The above jacket scan is a composite from the actual Widescreen LaserDisc release in 1991 and the artwork from the Silver Catalog. No actual jackets are known to have been produced - this is simply a speculation of what it may have looked like.
---
FM was issued on MCA/Universal Home Video (Catalog #: 16012) in October 1991 as a 2 sided CLV Widescreen (2.35:1) title. Universal later licensed the title to Anchor Bay Entertainment for release on DVD. This edition includes a brand new 16x9 Widescreen transfer, a Full Frame transfer, the original Stereo soundtrack and a newly created 5.1 Dolby Digital soundtrack. It was issued in January 2000.
---
Return to MCA DiscoVision Catalog
MCA DiscoVision Home Page
---
Updated: April 16, 2000
Copyright ©2000 Blam Entertainment Group