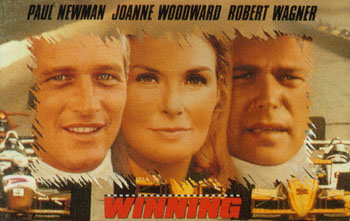 ©1969 Universal City Studios, Inc. All rights reserved.
---
Mono
Pressing Location
DiscoVision Carson
Label Color
Blue
Estimated Sides
5
Retail Price
$15.95
Pressing Notes
Winning never made its appearance on DiscoVision.
---
Winning was finally released in April 1993 on MCA/Universal Home Video as a 3 sided CLV/CAV Widescreen (2.35:1) disc (Catalog #: 41484). Universal issued the film on DVD in March 1999, restoring the original 4-track magnetic soundtrack and presenting it in a 4.0 discrete Dolby Digital presentation.
---
Return to MCA DiscoVision Catalog
MCA DiscoVision Home Page
---
Updated: April 16, 2000
Copyright ©2000 Blam Entertainment Group