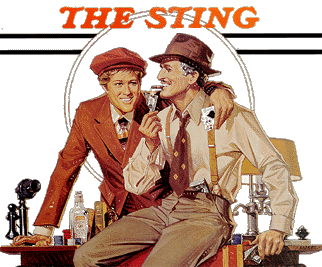 ©1973 Universal Pictures. All rights reserved.
Catalog Number
11-001
Format
Extended Play CLV
MPAA Rating
Running Time
129 minutes
---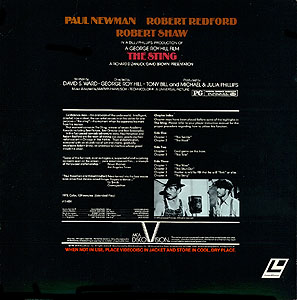 Mono
Pressing Location
DiscoVision Carson
Label Color
Red
Retail Price
$29.95
Year Issued
1981
Side
Chapters
Running Time
1
2
43min
2
2
42min
3
4
45min
8
130min
Dead Side
Various
Ratings
Video Transfer
Audio Transfer
Replication
Packaging
Printed Jacket
Pressing Notes
The CLV edition of The Sting replaced the CAV version and was spanned across 3 sides. The jackets were too small for 2 discs and bulged at the lower edge. Rumors claim the last of the Extended Play editions were manufactured out of the Universal Pioneer facility in Kofu Japan. However, I have not seen a Japanese pressing of the DiscoVision Extended Play edition.

This is the exact same transfer from the CAV edition, and bears the identical problems from the earlier edition. The actual pressing looses points for random color flashes and an annoying problem on side 3 which seems to simply skip fields now and then. The standard "shrinking numbers" bumpers were used on this version.
The Blue DiscoVision "turtle"
Glue Spray

---
Release History
The Sting was issued in 1982 by MCA Videodisc. It was later issued as a 3 sided CLV/CAV version (Catalog #: 11001) Pan & Scan edition with Digital Audio. The title features windowboxed opening and closing credits. Some of the odd watermarks are still present, but the transfer is a much needed improvement over the DiscoVision editions.
---
MCA DiscoVision Home Page
---
Updated: November 5, 2016
Copyright ©2012 Blam Entertainment Group