©1979 Universal City Studios, Inc. Columbia Pictures Industries. All rights reserved.
Catalog Number
10-025
Format
Extended Play CLV
MPAA Rating
Running Time
120 minutes
---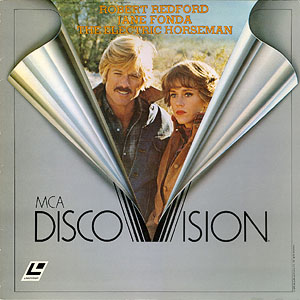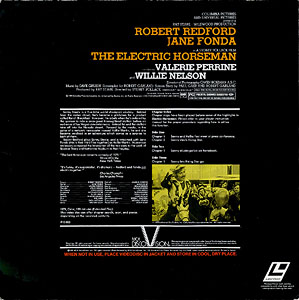 Mono
Mastering Location
DiscoVision Carson
Pressing Location
Universal Pioneer Japan
Label Color
Red
Retail Price
$29.95
Year Issued
1981
Side
Chapters
Running Time
1
2
38½ min
2
1
38½ min
3
1
43 min
4
120 min
Dead Side
Disco-Vision Blue
Ratings
Video Transfer
Audio Transfer
Replication
Packaging
Printed Jacket
Pressing Notes
The CLV edition of The Electric Horseman replaced the CAV version the following year. The film was re-transferred, spanning 3 sides. As with 3 other titles released during this period, the masters for this Jane Fonda & Robert Redford film were prepared in the US and then shipped to Kofu for replication. The jacket featured new artwork and did not mention "Extended Play" anywhere.

The difference between this edition and the CAV edition, from the obvious number of side breaks is almost as dramatic. This version has been given a completely new transfer, and while it suffers terribly from the Pan & Scan process, it is properly unsqueezed most of the time. Of biggest improvement is the color and white balance. The image is sharp and colorful, with wonderful greens and reds. The image is never washed out or has the pulsing problems inherent in the original transfer. The audio transfer has been given a "face life" too, but it is recorded slightly loud for my tastes (and will overdrive most Pro-Logic decoders).

Disc replication is spotty. All copies inspected have minor speckling and dropouts, slightly higher than average for Japanese discs pressed at this time. However, all have been watchable.
---
Release History
MCA Videodisc reissued The Electric Horseman in a time-compressed 2 sided CLV release in 1983. With the removal of it from the MCA catalog, the title was out of print until April 1994. At that time, MCA/Universal Home Video released a 3 sided CLV/CAV widescreen (2.35:1) edition (Catalog #: 41516) which restored the film to its correct running time.
---
MCA DiscoVision Home Page
---
Updated: November 15, 2016
Copyright ©2004 Blam Entertainment Group