March 26, 1980
Pioneer & DiscoVision Associates Announce
Market introduction of consumer laser-optical
videodisc player & software in June, 1980

New York, Mar. 26 -- U.S. Pioneer Electronics, Corp., in a press conference held jointly with DiscoVision Associates, today announced that Pioneer will begin to sell a consumer model laser-optical videodisc player in four markets starting in June, 1980.
The initial four markets will be: Minneapolis/St. Paul; Dallas/Fort Worth; Madison, Wisconsin; and Syracuse, New York. Pioneer plans to expand into approximately four more markets every 60 to 90 days. The Pioneer videodisc player will have a suggested retail price of $749.00.
Ken Kai, executive vice president of U.S. Pioneer Electronics Corp., stated that the technical superiority of the laser-optical system is evident to all who have viewed the various videodisc systems. "We are confident that the laser-optical videodisc player will win wide acceptance in the market and will, ultimately, emerge as the primary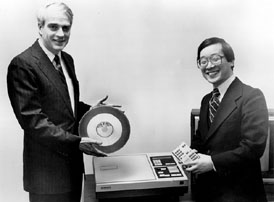 videodisc system for the American consumer. The potential impact of the laser-optical format, not only as an excellent movie delivery system, but as a medium for music enjoyment, home instruction and education is very significant," he said.
DiscoVision Associates (DVA) President John J. Reilly stressed the importance of quality in the new system. "Our optimism," he said, "is based on the audio-visual experience, the software programming and the value Pioneer brings in terms of promotion, distribution and service."
DVA, a joint venture owned by IBM and MCA, is mastering and replicating laser-optical discs to support both the consumer marketing efforts of Pioneer, Magnavox and others, as well as their own marketing of an industrial model videodisc player to General Motors under a manufacturing arrangement with Pioneer. The players are being used in General Motors dealer showrooms.
"The Pioneer VP-1000 laser-optical player incorporates a wide range of features most requested by consumers during Pioneer's national experience with technology demonstration," said Ken Kai. "They include freeze frame, scanning, the ability to call up by frame number any given frame on the disc (random access) and slow motion. These permit the Pioneer player to be used to meet a wide range of educational and information needs of consumers."
"This Pioneer videodisc player incorporates state-of-the-art refinements such as the provision for a future adapter unit to play true, digital ('PCM') audio," he continued. "It is the firm opinion of the industry analysts who have reviewed alternative videodisc systems that the laser-optical videodisc format is clearly the technically superior system. This laser-optical videodisc format offers outstanding picture quality, excellent stereophonic sound quality, and a variety of features not available on competing systems."
"Moreover, since this is a non-contact system, disc life is unlimited and there is no degradation of quality from repeated use. And, since the disc can be freely handled, it is convenient and easy to use," Kai continued.
Kai also noted that the picture quality and resolution of the fine detail with the laser-optical videodisc system "is inherently superior to home video cassette units." In addition, two discrete high fidelity sound channels are available, permitting the laser-optical player to offer the option of stereophonic sound or dual language capability," he concluded. Because of requests received from consumers during technical demonstrations, Pioneer has also decided to offer an optional full-function remote control RU-1000 for a suggested retail price of $50.00.

Updated: November 5, 1996