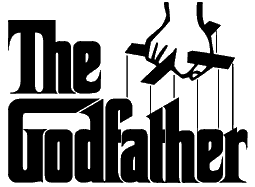 ©1972 Paramount Pictures Corporation. All rights reserved.
---
Mono
Pressing Location
DiscoVision Carson
Label Color
Blue
Estimated Sides
7
Retail Price
$15.95
Pressing Notes
The Godfather was never mastered or released.

Rumor has it that there are actually copies of The Godfather in existence. Anyone...?
---
The Godfather finally made its way to LaserDisc on Paramount Home Video (Catalog #: LV8049). Paramount has reissued the disc at least twice under the same catalog number. In May 1997, it was also released in a THX® certified Dolby Digital encoded widescreen (1.85:1) edition and then in December, all three 'Godfather' films were reissued in a box set. Paramount issued The Godfather as part of a massive 5 DVD set called The Godfather Collection in October 2001. This includes all three 'Godfather' films as well as additional documentary and supplementary materials.
---
Return to MCA DiscoVision
MCA DiscoVision Home Page
---
Updated: June 9, 2002
Copyright ©2002 Blam Entertainment Group