©1971 Metromedia Producers Corp. and Les Requins Associes. All rights reserved.
Catalog Number
51-011
Format
Standard Play CAV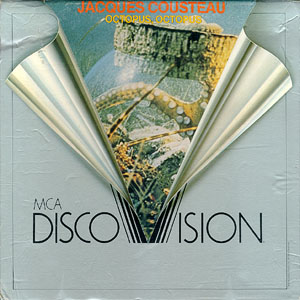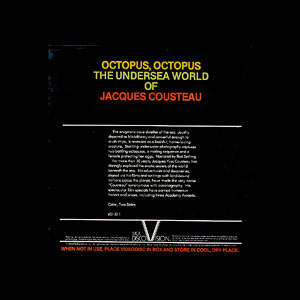 ---
Mono
Pressing Location
DiscoVision Carson
Label Color
Green
Retail Price
$9.95
Year Issued
1979
Side
Frames
Running Time
1
35,758
24min 49sec
2
37,445
26min 00sec
73,203
50min 50sec
Ratings
Video Transfer
Audio Transfer
Replication
Packaging
Open-Top
Side-Open Sticker
Printed
Pressing Notes
Rated as the second rarest Jacques Cousteau DiscoVision title (behind The Singing Whale), the transfer of Octopus, Octopus is quite typical for the series. Taken from a 16mm print, the contrast and color balance are under control. Sharpness and detail are also quite good on this title in which nearly all footage was shot under water. The audio transfer is typical for the 16mm optical track, with the dialog crisp and clear and the music, on more than one occasion, activated my system's sub-woofer. As is typical with all of the Jacques Cousteau titles, the DiscoVision bumper music is overdriven and sounds distorted.

The video transfer on side 1 appears to have a hair in the telecine gate which waves back and forth for most of the side. It's really a slightly black blur weaving back and forth and is almost imperceptible.

Both review copies used for this overview contain two defective frames on side 2 which the player mis-reads as automatic picture stop codes. The result is an abrupt stop at frame 4,988 and again at 28,009. Pressing Play continues the program in both cases.
---
Release History
Octopus, Octopus was reissued on LaserDisc in 1986 by Pacific Arts through Image Entertainment (Catalog #: ID5293PA) as a single sided CLV pressing.
---
MCA DiscoVision Home Page
---
Updated: November 5, 2016
Copyright ©2001 Blam Entertainment Group