©1971 Metromedia Producers Corp. and Les Requins Associes. All rights reserved.
Catalog Number
51-010
Format
Standard Play CAV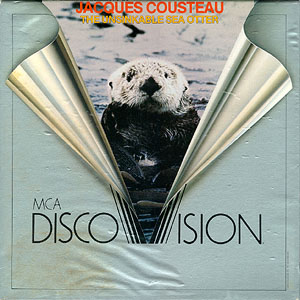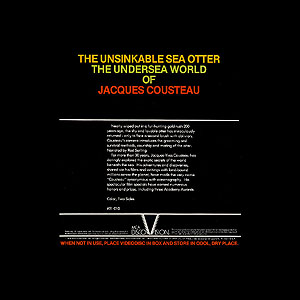 ---
Mono
Pressing Location
DiscoVision Carson
Label Color
Green
Retail Price
$9.95
Year Issued
1979
Side
Frames
Running Time
1
37,747
26min 12sec
2
34,806
24min 10sec
72,553
50min 23sec
Ratings
Video Transfer
Audio Transfer
Replication
Packaging
Open-Top
Side-Open Sticker
Printed
Pressing Notes
One of the eight titles from "The Undersea World of Jacques Cousteau" released on DiscoVision, The Unsinkable Sea Otter details the mammal which was very near extinction. It also covers both sides of a public debate over the relocation of sea otters to allow for easier and more plentiful fishing. Since the program was produced in 1972, the dispute is long resolved I'm sure.

The video transfer, taken from a 16mm print is typical of the other Jacques Cousteau titles from the Silver Catalog. The contrast and color balance are under control and display the wonders of undersea photography. Much of the program takes place above the surface, but does not reduce the image quality. The audio transfer is typical for the 16mm optical track, with little excursion into the upper and lower frequency range. The opening DiscoVision bumper is recorded at too loud a level and distorts terribly as a result. The side break is poorly placed. Had DiscoVision simply allowed the program to run another 2,100 frames, the side break could have been placed at a pre-determined break in the program. Disc replication is average, with some minor high frequency speckling on most copies.
---
Release History
The Unsinkable Sea Otter was reissued on LaserDisc in 1986 by Pacific Arts through Image Entertainment (Catalog #: ID5297PA) as a single sided CLV pressing.
---
MCA DiscoVision Home Page
---
Updated: November 5, 2016
Copyright ©1999 Blam Entertainment Group