©1981 Sears, Roebuck and Company
Catalog Number
07-498
Format
Standard Play CAV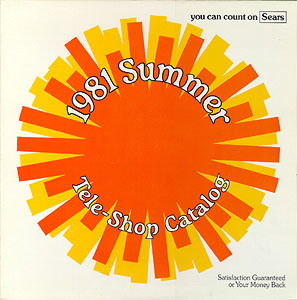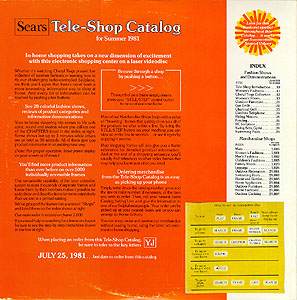 ---
Mono
Pressing Location
DiscoVision Carson
Label Color
Sears
Interactivity
LEVEL I
Year Issued
1981
Side
Chapters
Frames
Running Time
1
29
49,809
27min 40sec
Ratings
Video Transfer
Audio Transfer
Replication
Packaging
Gate-Fold
Pressing Notes
The 1981 Summer Tele-Shop Catalog from Sears was a unique attempt at marketing the catalog success of the store through the new medium of Videodisc. DiscoVision shipped them to Atlanta, St. Louis and Chicago. It was possibly the first laserdisc packaged in a gate-fold jacket.

The video catalog was received poorly by the public as it didn't contain anywhere near the number of items available in the printed catalog. Further, players of the day required frame display to be on in order for the auto picture stop function to work, and the Magnavox VH-8000 series of players could not play the disc at all.

The audio and video transfer are what you might expect from a low budget video catalog. But since it's not designed to be a theatrical presentation anyway, what difference does it make. Portions appear to be in stereo, but nothing of any significance. There is a mastering error during at the beginning of the disc. There is simply no audio at all from the right channel. It pops up after about 150 frames. During Chapter 10, the video introduction to the program, the head of Catalog Sales at Sears is holding a video disc. It is unknown which disc it is, but it is one of the Disco-Vision industrial discs, based upon the label. Further, he is holding it very tightly to keep it from moving and reflecting the lights. Pitty it's upside down. Perfectly upside down, but still upside down.

Sears remained fully behind LaserDisc technology. However, their involvement was limited to in-store displays, most of which were pressed by 3M (Imation). This catalog disc is the only one of its kind.

Most copies have a Glue Spray dead side. It has been reported that some do have regular dead sides, but I've never come across any.
---
MCA DiscoVision Home Page
---
Updated: November 5, 2016
Copyright ©1998 Blam Entertainment Group